Tamara with 2 men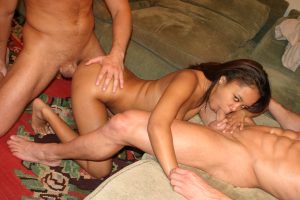 My name is Tamara and I have experienced something so hot as hell, I just HAVE to share it with you.
First I will introduce myself. So my name is Tamara, I am 24 years old and I come from Hoofddorp. I was born here although you wouldn't say it that way because of my nice tan. My mother is from Suriname and my father is a real cheese head. I have now been three years with my current boyfriend Remco and he is 6 years older than me. Sex with my first boyfriend was never so exciting, but since I've been with Remco, our sex life has been really fantastic. He has already taught me so many things and we keep discovering new fun things every time. Although he was not my first, he did fuck my ass first. And during one of our lovemaking, when he was fucking me in the ass, I was playing with a vibrator. I let him vibrate nicely on my clit, but then slowly pushed it into my pussy. It was such a mega intense feeling, his fat cock pounding my ass and the vibrator, not a small one, vibrating in my pussy. I felt super horny. I felt like a slut and it was addictively good. Remco also liked it.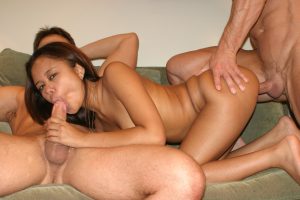 He could also feel the vibrator vibrating with his cock and it wasn't long before I came and I felt him cum in my ass. It took a while but his cum was dripping from my ass and with a finger I picked up a blob and licked it off my finger. One thing was certain: I had found a new addiction. After we caught our breath I said it looked like I was doing a threesome with two guys. I absolutely do not want to lose Remco so I did not say that it seemed fun to do a real threesome with two men, but I did dream of it from then!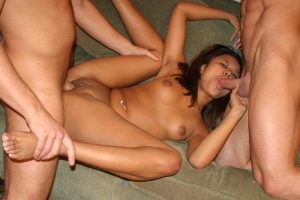 About two months later, we were making out again. We had a porn channel on and we were both naked. Remco lay on the couch and was sucking his fat cock. I love pipes. Once I start I can't stop. But suddenly the bell rang and I really didn't feel like opening the door so I just kept going. Tring! The doorbell again. I thought "Who's calling at this time now!" But Remco got up and said "Wait a minute, then I'll have a look" and he walked to the door. I sat naked on the couch and took a sip of my wine. I heard Remco speak but could not hear him. The door was closed again and I heard a lot of thumping in the hallway. I thought "What is this now?" and got up to look. When I entered the hall, my mouth fell open and I was embarrassed. In my hall was a blond boy in his underpants! Before I could say a word, Remco came up to me and took my arm and took me back into the room. He said "I have a surprise for you.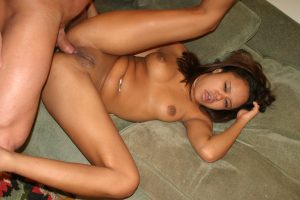 Just sit here and he will come and introduce himself "and he walked back to the hallway. I was completely surprised! Did he really invite another man? For me? Exciting! I took another sip of wine and waited to see what would happen. I was so nervous and all kinds of things went through my mind. You know what? I quickly grabbed my vibrator and started playing with it on the couch. When the men entered the vibrator slid down my labia and I saw Remco smile. The other boy was a beautiful boy. Blonde and slim with a happy smile, but his cock was still limp. He came up to me and introduced himself. "Hi, I'm Rob" and he leaned over to kiss me. I hugged him with one arm and kissed him full on the mouth. He immediately put his tongue in my mouth which sent a shock wave to my pussy. Oh this was going to be a great night, I was soo horny! We talked for a while when Remco took over the vibrator and started pampering my pussy and licking my clit . I grabbed Rob's cock and pulled it gently. He immediately started to grow.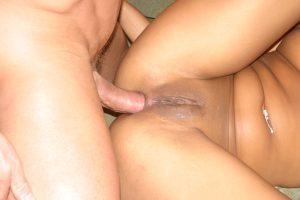 "Come a little closer" I said to Rob and took his cock in my mouth. He visibly enjoyed it because his cock was very hard very quickly! The vibrator vibrated wonderfully in my pussy and I felt that I was about to cum. I squirmed and groaned to the joy of the men encouraging me to cum. I squeezed hard on Rob's cock when it came shockingly. For a moment I lay exhausted. Just reminisce. Then I took another sip of wine and asked Rob if he wanted to sit down. I got on my knees in front of him to suck him off and Remco slipped his fat cock into my wet pussy. My pussy was still a little sensitive and I squirmed with every thrust. It felt like my pussy was under power!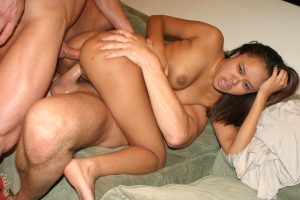 In the meantime I was sucking on Rob's hard cock. But suddenly Remco stopped fucking and sat on the couch. His cock gleamed with moisture from my wet pussy and I grabbed him and licked my own pussy juice off his hard cock. Rob had stepped up behind me and I felt his fingers penetrate my pussy. He was a bit rough but it felt horny and suddenly I felt him push his cock into my pussy. It seemed to go so deep that it made me pant. I immediately knew that I would not be able to keep this up for long. He fucked me slowly but he thrust hard and with each thrust I shot forward a bit. It felt wonderfully horny to be fucked so rough. But the carpet was rubbing my knees so I lay down on the couch. Rob immediately started to fuck me.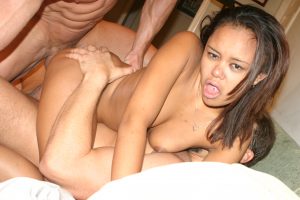 His nice cock came deep into my bald pussy and in the meantime I sucked Remco's cock. I breathed through my nose and it seemed like it made me come sooner. This time I came more violently than the first time. The excitement of being fucked by another man with a cock in your mouth is therefore very big and very exciting. Rob left for a moment and came back a little later with a bottle in his hand. He sat down between my legs and put some lubricant on his fingers and also squirted a little between my legs. I knew immediately what was going to happen and I looked at Remco, but he played with my tits and then gave me a heavy French kiss. So he didn't mind that Rob was going to fuck me in the ass. As I sucked on Remco's tongue I felt Rob's cock press against my poop hole and gently slide in. Fortunately, he knew what he was doing. The first part always gives a burning sensation, but once it has passed it, it is an incredibly tasty sensation. In my ass a cock looks twice as big as when it fucks my pussy.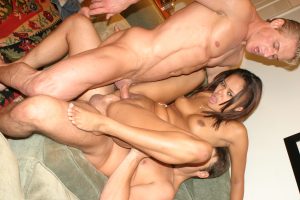 Rob had meanwhile taken my vibrator and put it on my clit. Never before had I experienced something so horny. Which girl is being spoiled so nicely by two of those handsome men? Remco pushed the vibrator into my pussy and I felt completely filled up. The cock that slid in and out my ass and the vibrator that vibrated wonderfully in my pussy, mmm, what a wonderful evening. Remco sat on the couch and I sat on top of his hard cock with my face to him. Rob came up behind me and he pushed his cock up my ass. It was like my fantasy came true! I was fucked hard by two cocks at the same time! I gasped with pleasure, the feeling of being completely filled up with two hard cocks going in and out of my pussy and asshole was unprecedented. I don't know how best to describe it but I can tell you that I came twice!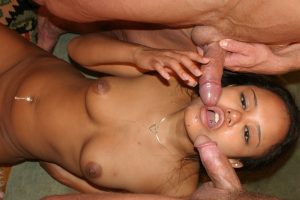 Before I could get out, Remco said he wanted to fuck my ass too. I got up and turned around. With my ass I sat on his cock and leaned back so Rob put his nice cock in my soaking wet pussy ass. I leaned on Remco fucking my ass hard and Rob fucked my pussy. I could feel their cocks bumping into each other in my body and that made me feel even more horny. The men kept going faster until Rob said he was about to cum. Remco lifted me off his cock and put me on the floor. They stood next to me and first Rob squirted his cum in my mouth and right after that Remco also came in my mouth. My mouth just about overflowed and I played with my tongue a little with their sperm and then swallowed it all at once. I licked the last drops from their dicks and then got up. I hugged Remco and whispered "thank you" in his ear. We sat down and had another glass of wine and then took a shower together where they both fucked me one more time. Then we said goodbye to Rob and went to sleep. I had a great night's sleep and every time I think about it I feel my pussy itching.
It was a wonderful horny evening and I can really recommend it to everyone,
love Tamara xxx
© The Stringpoint Group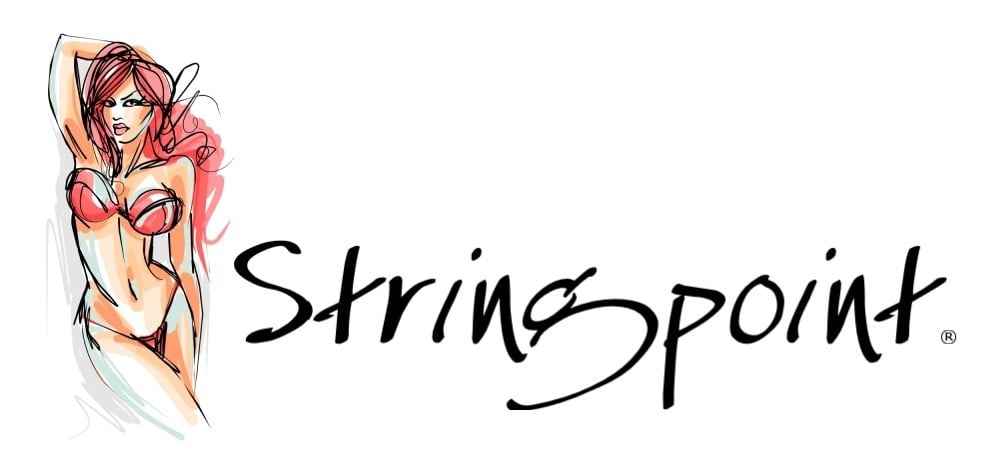 bron: sexverhalen.com