Fantasy… with three
My husband Dennis and I have been happily together for eleven years now, both in their early thirties with a nice job and a lot of meaning in life. We have a very nice, healthy relationship and are on the same wavelength for just about everything. Sexually, everything is going great, and I've never had the feeling that I'm missing something, that I'm missing something… but that doesn't mean that I have certain fantasies in my head. Fantasies that I share with Dennis and that give our sex life another dimension, but afterwards we always laugh everything away and know that it stays with those 'naughty' thoughts, like some kind of dream that wanders in your head but you know that it won't happen and it really doesn't have to.
Dennis knows that I will always find a female body more beautiful than a man, he always jokes that he feels the same way. In my mind I wander off that I love a woman, touch her, caresses, kisses… inside I'm on fire thinking about this, but it doesn't stop there. I also started to fantasize more often that my husband also plays a part in this and caught myself that the fire in me is fanned even more when I envision Dennis, with the desire in his horny eyes when he sees me, and another girl, and experience his sexual appetites with me and her.
The blissful, hot feeling I get from thinking about it is wonderful and that takes precedence, and beyond that I never considered… that it might become reality or something, no, that never really occurred to me. But at an unexpected moment that suddenly changed, a moment in my life that I will never forget and which I still look back on fondly and think about it very often. I'm far from raunchy, or foul-mouthed, but I can't put it into words other than this: every time I think about what just happened, I feel something tickle in my panties… until it almost feels like it's flowing from my cave. I'll take you back to what happened to me that warm summer evening a few months ago, and you may understand why my body heats up all over and goes into ecstasy when I think about it.
I will never forget it, it was sweltering hot and had a hectic day at work. I've been working in a beauty salon for a little over 5 years and the floor was trampled that day, just before the big holiday started. Every year we notice that period is a peak moment, since everyone wants to look perfect before they leave on a trip. My colleague and now good friend Romi should have stopped earlier that day (no idea why). It didn't work out well, but no drama and in the end every customer was helped as it should. I was already looking forward to coming home, after all, the children were spending a weekend at the seaside with grandpa, and secretly I had longed for some peace and pleasure with my husband for a while. And as a bonus, we could also take a dip in the landscaped pool in the garden that my husband is so proud of. After a lot of manual labor, it was completely finished last week.
It was such a typical wonderful Friday evening, Dennis provided some snacks, socializing, (many) drinks, and just enjoying each other. The third gin was already in my head and nothing could be done this evening… tring tring. No, you know that feeling, you don't expect it and suddenly that terrible sound of the bell, at a moment you don't want it at all. Dennis took a look and I was sprawled out in the recliner, but bounced up faster than light when I heard Romi's frivolous voice. "And is she out of the shower yet or is she standing in front of the mirror again without being able to choose what to wear?" I heard her say laughing to Dennis. Dennis looked up strangely and then I could kick myself. "Shit, with Romi to the cinema… right". For once not placed in the agenda, and forgot about rats.
Fortunately, she didn't feel like going to see a movie in that heat and suggested that she otherwise just have a drink. I couldn't and didn't want to just send her away. I wasn't ready to go to the movies, so we didn't make it anymore, so yeah, a night out with the three of us seemed like a good idea. And Dennis, he didn't mind either, he got along well with Romi, although we hadn't met so often with Dennis there. It was now after 9 pm and the evening twilight made the atmosphere even cozier, candles were lit, some snacks, and of course the necessary refreshments (ie drinks). I knew it took very little for Romi to get tipsy quickly and although I was already quite tipsy myself, I still knew what I was doing, and something in me wanted her to go into a daze with me and get a little more physical. contact was established. After all, I've always found her very attractive, so natural, and secretly I sometimes imagined what it would feel like to see her completely naked, and maybe even touch her.
The heat continued that night, and I couldn't stand it anymore. "I don't know what you guys are going to do, but I have to get in that water NOW!" The combination of the heat and the many drinks ensured that I took off my summer dress without thinking and just dived into the pool in briefs and bra. Dennis cried out, but I remember so well when I saw his eyes when Romi said: "hey wait for me, or did you think I dare not?" She dropped her short skirt and her top flew through the air, and in her pale pink lingerie she jumped into the pool after me. I was taken aback by the look in Dennis's eyes, but that disappeared immediately and the feeling went over to certain jitters, and even though I was lying in the water, I felt exactly that I felt something flowing inside… Dennis went on the lounger lay down, a little closer to the pool, and watched, laughing, as Romi and I hung around each other's necks exactly like two teenagers, splashing each other wet, trying to push underwater and really having fun.
Romi suddenly called to Dennis, hey bitch, afraid of the water? Or afraid of two girls we'll push you down? He only needed a few seconds and dove into the water, only t-shirt off. He was still wearing his black shorts, but he also took them off in the water, his white boxer shorts stayed on. He immediately wanted to show his manhood and pushed us both under. Romi and I didn't give up and jumped him from all sides to get him under the water too. We laughed and howled, but in the meantime I also observed my husband, who innocently enjoyed the attention and probably also the touches that automatically followed in the 'water game'. I also enjoyed it and gradually I let my hand slide over Romi's body for a while longer. On the other hand, I also felt that Romi did this to me… wonderful. I let myself be carried away by the passion and lust and took Dennis' hand underwater and guided him over Romi's body, without her really noticing. It was kind of a signal that I wanted to give to Dennis, a signal that said, it's ok. The nerves were screaming through my body, but also the adrenaline, and the curiosity for maybe more.
I don't remember how it came up, but someone had the idea to stay underwater the longest. It was Dennis' turn, but he wanted more of a challenge, a bit of toughness, that's how men are. And then it came… I popped something out and before I knew it I set something in motion that I had never experienced before. "Romi and I can probably kiss longer than you can stay underwater!" Dennis laughed and clearly thought I was whining and disappeared under the water. Not knowing that when he surfaced, he would see something he may have dreamed of but had not expected at all. And me neither. The moment Dennis went underwater, Romi grabbed me with a hand on my lower back, whispering in my ear: "Do you think I dare not?" My body shivered, she came very close now, our breasts touched, her hand slid down to my ass, and a sultry long kiss followed. She gently twisted her tongue around mine, and now I was sure my pussy was wetter than ever before. Dennis came up with a look that spoke volumes. Not quite sure how to react, he let himself drift back a bit, but again I signaled. I also saw the bulge in his boxers, so I reached out my arm underwater and grabbed his swollen cock, pulling him closer to us. I gave him a tongue kiss and was so curious how Romi would react. I turned to her and kissed her again, and Dennis suddenly took matters into his own hands and came to our kissing lips with his mouth. The tone was set, the brakes looser and looser, so were the hands…
I gasped for a moment and was forced to stop kissing, but Dennis and Romi kissed furiously. The jitters became even more intense for me, a very strange feeling, but I really wanted more and found it exciting what I saw them do. I took Romi's hand and brought it to his cock. With her other hand she opened my bra, while her other hand disappeared into his boxers. She gently stroked my breasts and Dennis was clearly enjoying it. I approached him, and sank under his nose, pulling down his white boxers. Romi responded to this and guided his cock to my mouth. Not easy underwater but the lust was so great, and so was his cock. Once above water I saw that Romi had taken off her bra in the meantime. Dennis stared at her beautiful breasts, reached out and kneaded both my and her breasts. She still hadn't let go of his penis… so horny. So hot. So sexy.
I also know my husband and could read his mind… I knew what he wanted, and I wanted to see it myself. So I grabbed him and brought him to the edge of the pool. "Just sit on the edge, we'll do the rest" and Romi didn't hesitate for a moment, and approached his rock hard cock and gave a kiss on his head, her hand caress his belly. He breathed harder and harder. I joined in and kissed the shaft of his penis. "Now just close your eyes," I ordered him. I gently took Romi by her hair, and guided her to Dennis's cock. She opened her mouth and slowly slid down her sexy beautiful lips. Dennis moaned, and then I said to open his eyes. "I felt it was Romi's lips," he moaned, and those words made me even more horny. For minutes she sucked on his cock without stopping, and while she took my hand and brought my fingers up to her pussy. The first time I felt another pussy, and it was delicious. I slid two fingers deep inside and saw from her blowjob technique that she was raging more violently each time my fingers slid in. Dennis could come at any moment, Romi felt it and stopped very close to his climax. "Come on, let's let him recover for a while, but not for long," she said. I laughed and gave her another kiss, got out of the pool and dried ourselves off. I lay down on the lounger, and Romi came half on top of me, her ass turned towards Dennis. She kneaded my breasts, and wandered down, kissing my belly, venus mound, to finally my wet pussy.
She licked me delicious, and in the corner of my eye I saw Dennis kneeling behind Romi, his cock in his hand, masturbating very close to her ass. It only made me wetter, closed my eyes for a moment with pleasure, until suddenly I felt her tongue deep in my pussy. I opened my eyes and moaned. Then I saw why she was suddenly so violent… Dennis had just shoved his nice cock into Romi's pussy. She stopped licking, but did stick two fingers deep into me. Dennis pumped faster and faster, Romi moaned louder and louder. Her breasts wobbled up and down nicely, until Dennis grabbed them with both hands. Playfully and gently I watched him massage her beautiful nipples, still thrusting his cock. I sank a little deeper, until her pussy was above my mouth. I licked with my tongue where I could touch both her pussy and his cock. Suddenly she grabbed his cock and stuck it in my mouth. I tasted her taste and thought it was quite delicious… he gently fucked my mouth, and then I grabbed him and rubbed his head against her wet labia. A little push, and again he fucked her without stopping. Once out of breath, he stood up and took us by the arm to the bedroom.
He pushed us on the bed, legs wide open, and started licking us all over. His still rock hard cock dangled above our heads, so Romi and I decided to spoil him further with our mouths. Again we felt that his sperm was not far away, so we stopped and let him recover. He lay down on his back, cock straight up, and Romi didn't pass up the chance… very naughty she sat above him, grabbed his cock and lowered her pussy all the way. Dennis immediately grabbed her breasts, alternating with her sexy ass. I watched so horny, this excited me so much… my fingers rubbed on my own clit and came to an orgasm that I really never experienced before. Almost at the same time, I heard Dennis moan loudly, and saw him squirt his cum into Romi's pussy. She got off him, lay down next to us, and Dennis continued squirting on her wet pussy. Not a word was said for minutes, until we started looking at each other, and everyone had huge smiles on their faces. What an experience… we didn't regret anything, on the contrary, it was even allowed to happen again soon.
We fell asleep with three in our bed. In the middle of the night I woke up a bit, both Romi and I were half on Dennis. My pussy still wet, and was curious about Romi. I slid over her buttocks, down to her soft labia. As wet as it turns out. I take some of the liquid from her pussy onto my finger and bring it to Dennis's lips, who quickly woke up too, and his cock was as hard in two seconds as it had been a few hours before. Romi and I gave him another great blowjob, and let him squirt on our tongues, the cum dripping down to our breasts. In the morning we took a shower together, Romi left us after breakfast. That day we didn't really talk about it, but we walked all day with a smile on our face. In the evening Dennis and I had delicious passionate sex. I enjoyed it as much as the night before. To be honest… I did think about Romi for a while and how she exceeded my imagination.
© The Stringpoint Group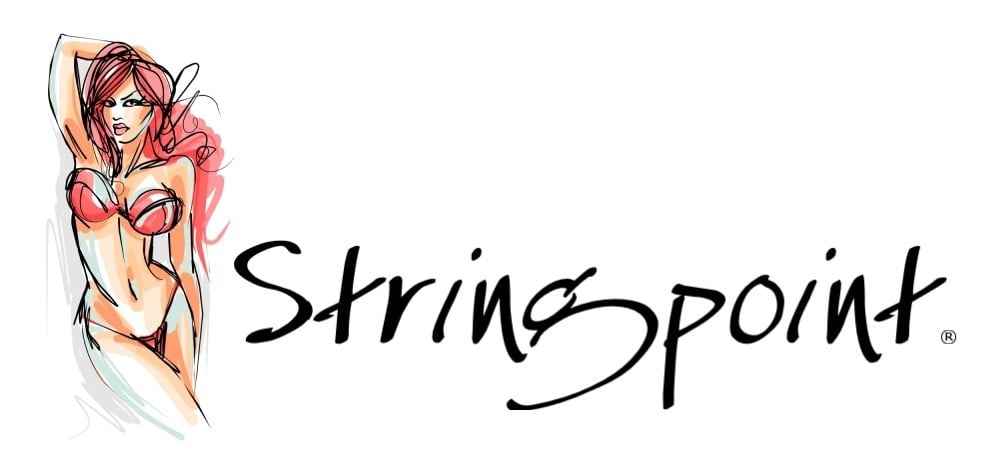 bron: thuis.nl