The lingerie saleswoman
It was Thursday evening and I was walking around town with a friend. I wanted to surprise my girlfriend with a nice and beautiful gift, but something that I could also enjoy myself. And then there is only one thing to do, lingerie. We were walking down a quieter street when we came across a luxury lingerie store. The two of us walked in and were greeted by a nice girl behind the counter. I hadn't seen her properly, but she sounded very nice. I walked along the shelves and was looking for a nice set, which my girlfriend still wanted to have. When I had found the rack and was looking for a moment , I heard the saleswoman next to me "can I help you with something". What I saw then made my jaw drop in amazement.  
The saleswoman was a very nice girl of about 25 years old, but a nice slim body with good fillings. Her breasts were wrapped in a sweater that was cut too low and left nothing to the imagination. You also saw her bra, those beautiful thin straps that you also see on the bras. And her face was super beautiful, brown hair, beautiful dark eyes and very light make-up. I think I was really staring at her for a moment , but she asked me again "are you looking for something or are you just looking around?". In my mind I answered "what you have in your shirt I would like", but to her I answered nicely "well, I am looking for a nice set for my girlfriend".   
The friend looked at me and I also saw that he was enjoying her delicious body. I turned back to the saleswoman and try to keep my gaze on her face, but her breasts caught the eye anyway. "Ow", she said, "here you have a nice collection in front of you, do you like that or not?". "Yes, certainly, I like it with a thong". The saleswoman bent over to grab the set and showed me her nice ass. "What size should you have" she asked. "Cup C 75" I said. She got up again and handed me the lingerie. I walked to the counter, there I gave it to her and she went to wrap it up nicely for me. Because she occasionally had to bend over to make the packing stuff, my boyfriend and I got a beautiful view of her delicious breasts. Her sweater fell completely open and you could see her breasts hanging in the beautiful bra. We looked at each other and couldn't suppress a big smile. Suddenly she looked up and in a flash I looked away, but I knew she understood. We both started joking about the spectacle from the net, but not literally. I think she realized it was about her, but she continued packing.     
After she finished I paid and we walked out of the store. "Goodbye and see you soon" she called behind the counter. "Goodbye" and once outside we roared with laughter. We couldn't talk about anything else for the evening. When I arrived home, I gave it to my girlfriend and she immediately went to try it. She came back and said "how is it?" I looked back and immediately got a boner. Her nice body was wonderfully packed in the beautiful set. My girlfriend sat on my lap and started to sit on the bra, "here by my breasts it is not quite comfortable and the thong does not feel good". I felt everywhere, but was more on her breasts than I checked. I grabbed her nipples and started to knead them. My girlfriend always gets horny about this and soon she started moaning and kissing me. I took my hand to her thong, pulled it aside and fingered her clit. She was already wet with excitement from the set, I put a finger in her cave and started to thrust in and out. I brought my mouth to her breasts and started sucking on it, she started to moan louder and louder. As she approached she got up and got on all fours on the couch. She looked back and said "just take me from behind, I want a quickie." I took off my pants and boxer shorts, grabbed my cock, pulled down on the thong and put my cock against her pussy. I pushed my cock in and my girlfriend immediately started to moan "ow, he's nice and fat, I always have to get used to that big horny cock of yours.". When she regained my size I started to thrust into her.    
My balls slapped against her cunt. Wanting a quickie, she started fingering herself and I increased the pace. "Yes baby, fuck me nice, take me nice from behind, you like that huh, fuck me nice". "Yes, sure honey" but now that I was fucking like that, my thoughts went to the saleswoman of today. In my mind I saw her again with those nice big breasts and her nice ass bent down in front of me. I closed my eyes and imagined I was fucking her. All this made me come right away and without saying anything I sprayed my load into my girlfriend. "Oh yeah, sweetie, that was just as wonderfully fast". My girlfriend immediately got off the couch, gave me a kiss and took a shower. I was still enjoying my fantasy when my girlfriend was already in front of me. "Do you mind exchanging it for someone else? I don't like it very much ". "No problem" I said and I immediately thought of the fact that I would see the nice saleswoman again. The next day I walked back to the store, the saleswoman was behind the counter again. "Hello, are you back? something not right or were you still looking for something else? " she asked. "No, the bra and thong are not very comfortable according to my girlfriend". "Ow, then you have to find out something else, can I help you?". We walked to the racks together and today she was wearing a lovely outfit, a long skirt that was tight around her ass and a white blouse.
Underneath she was wearing an exciting red bra that you could easily see through the blouse. I thought it will get through work. We were standing in front of the racks and I was looking at which set I liked. I saw some nice things, but my girlfriend was not going to do them, we had talked about that before. There were a few nice sets that my girlfriend liked. One of them was a nice red set, with a horny thong that consisted of a pair of shoelaces. The bra also had those laces running over the top. "I think she likes the red one, but I don't know if it will sit comfortably" I said to the saleswoman. "Well I love it, it is one of my favorite sets" she said as she opened her blouse a little. I looked eagerly at her bra with her beautiful big breasts, without a doubt a cup d. I looked at her bra a little too long and suddenly she said "can you see it well now, I think you had some trouble yesterday".  
I felt my face flush and I wanted to apologize. "It's okay", she says, "it's a compliment and it's my job to show it off". Relieved, I took a breath again and walked to the rack to get the bra. "Well, I hope it's the right one" I said "otherwise I have to come and exchange it again, not that I mind that much" I said with a wink at her. She walked up to me with a smile on her face. "Just feel with me if everything is okay, then you will know for sure". I looked at her with wide eyes and put my hand to her breasts. I felt at the top, the straps and the underwire to see if everything was in place. With the top of my hand I touched her erect nipple and she couldn't suppress a little moan. Encouraged , I turned my hand and took her whole breast in my hand. I started to knead them. She looked at me horny and asked "what about that?". I had the taste and said "the outside feels good, I still have to inspect it on the inside". I slid the strap off her shoulder and popped her breasts out of the bra, grabbed the naked breasts and squeezed her nipples. She moaned with excitement and searched my mouth with her mouth. We started to tongue and in the meantime I continued to massage her lovely breasts. "Now just feel the thong" I said to her in between kisses.
I moved my hands to her skirt, lifted it slightly and slid my hand between her legs. The small dust started to get wet from my actions and I pressed my finger against it. While kissing she moaned and muttered something like "yes, nice, yes .. uhmmm ". I rubbed her wet spot back and forth, then hooked a finger behind the thong and put my finger in her pussy. I started to thrust him in and she stopped kissing for a moment because it made her moan so much. All this had not left me unaffected , and my young lord was already ready. She reached up my pants with her hands and opened my fly. She reached into my fly and found my fat cock there. That morning I didn't feel like putting on a boxer, so I went on the street without a boxer that day . She took my cock through my fly to the outside and began pulling lovely to. She skilfully worked my entire cock and I started to moan. This apparently turned her on and I felt her going on my fingers. N Not much later she finished groaning , while still tasty deducted me.  
I felt like more and pulled her over to the counter. I put her on her back on the counter and lifted her skirt, there I saw the lovely thong for the first time and also saw a large wet spot. I put the thong aside and put my cock against her. Slowly I pushed my dick in and started to fuck her quietly. The saleswoman was nice and horny and opened her blouse further and started to knead her own tits. She put her nipples between her fingers and rolled her fingers over them. She looked at me horny, she licked her tongue over her lips and I started to fuck her harder. I put my hands on her hips and quickly shoved her back and forth over my cock.
She started to pant again and kneaded her tits faster. She pushed them together and the sight looked beautiful. "Oh yeah, sweetie, I'm about to come, I'm about to squirt in you". "No no, I want to have your cock in my mouth for a while, just empty it there." she said. A little disappointed I took my cock out of her warm cunt and she climbed off the counter, dropped to her knees and started licking my cock head. She looked horny at me and took it all the way deep in her mouth. She started sucking me off and I grabbed her head. I started to thrust and felt my dick go deep into the back of her mouth. Her breasts serve wonderfully and I had to knead them anyway. I grabbed her and squeezed her nipples. She took my cock out of her mouth and sat up. She put my cock between her breasts and I pressed them together. I was now moving back and forth and was fucking boobs nicely.
She stuck out her tongue and could just lick my entire head with this. Every time I hit him she sucked my cock hard. I could not sustain all this for long and she felt it. "Yes… plop…. come plop…. but plop…. in plop… my plop… mouth…. " she managed to utter between punches. I moaned loudly and my cum shot out of my dick with a force. Thick blobs flew against her face, her mouth, and the rest dripped down her breasts. She sucked horny on my dick until it was completely empty and clean. She got up, picked up a towel under the counter, and wiped everything clean. She took the red set from the counter where I had just fucked her and put it in a bag "please and thank you". "You too and if it is not good I will come back tomorrow, or if I am looking for a new set…" and I walked out the door.
© The Stringpoint Group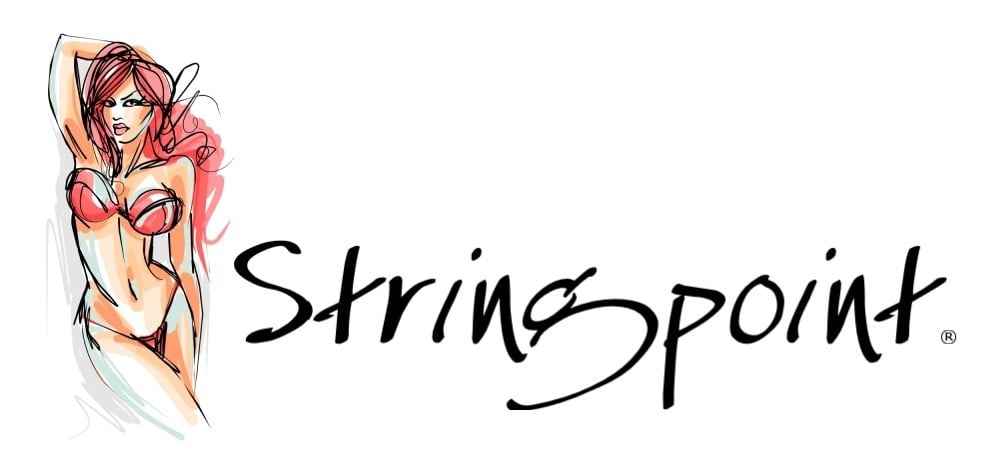 bron: sexverhalen.com