Short layover
Our plane makes a short stopover in Muscat, at the national airport of Oman. We all have to get off the plane through the sweltering heat to a building that looks like an oversized bus hangar. Despite my skimpy clothes, I sweat like a horse and feel a bit nauseous. As a young pretty girl I stand out in my very short skirt and airy blouse between all those walking mountains of clothing. There are icons everywhere that indicate that just about everything is prohibited: no photo, film, mobile phone or whatever. That's a nice tent here.
Gunmen walk around the building who seem to have run away from a movie set about the American Civil War of the years quietly. Two young guys stand out because of their slightly better uniform, probably rich cadets in training. Maybe because of my weird attitude because I'm a bit nauseous, or because of my sexy appearance, they come at me. They start an explanation to me that resembles the menu at the Turk, which I don't understand of course. They each grab me by the arm and enthrone me to a small office, where I am pushed in front of a fat chef or something. They slam the door behind me and the man looks at me from his desk with an expectant grin and licks his lips. The two boys start babbling to him and it looks like they get good marks for their action.
The fat man asks in his best English 'drugs?' and takes my handbag from me, which he casually throws on the table, where one of the boys searches it. I zealously say 'no drugs' and shake my head 'no'.
†
The chef stands up and puts my hands on my head with a very unintelligible explanation. He walks around me enjoying the view, because he probably notices that I'm not wearing a bra under my thin blouse. Suddenly he grabs me through my blouse by my nipples, lifts them and asks "no drugs?". No man, of course I don't have any drugs or did you think my nipples are packs of that stuff? He lets go of my swollen nipples, walks behind me and takes my C-cups in his rough hands, weighs them, knead them and asks again "no drugs?".
I am helpless by it, my ears bright red with shame and annoyance that I am being so abused in a so-called drug control. He twists, squeezes and plays with my tits as if packages will suddenly appear. The cadets look beaming at it, especially because my nipples push out through my blouse like two thick buttons. Unexpectedly he pulls my blouse off over my head, causing my breasts to sway freely into the world. The Cadets' eyes almost roll out of their sockets. They will otherwise see a stiff from a bare ankle!
†
I am pushed forward with my hands on a table and the cadets are given an explanation, looking at me more and more enthusiastically. When the chef is done they come up to me and start to 'search' my dangling tits. Jesus guys, I have no drugs and now stop humiliating and molding me like this! But the boys let themselves go and make me very hot in spite of everything.
Meanwhile the chef has pushed his chair behind me and suddenly he folds my skirt up and pulls my pants down and puts it in his pocket. When I want to pull away, the cadets hold me in place by my teeth and my ponytail and give me a few good whacks on my bare buttocks. The chef pulls open a drawer and takes out a rubber glove, like they use for cleaning, with nubs on the fingers for a better grip. He puts them on clearly for me to see and then pushes my feet apart, looking straight at my bare plum and star. I'm ashamed of myself, as I stand now and know what his intention is now, because he is supposedly still looking for drugs and I know where he wants to look for them now!
Painfully slowly the 'rubber' hand comes between my buttocks and spreads behind my lips. With a devilish grin he runs the glove through my slit, which pulls my entire shop along with the non-slip studs. His finger goes up and down, humiliating, but also soaking wet at the same time.
The two lads are still clumsily milking me, which is quite delicious, and when the chef suddenly pushes his finger into my mussel and pumps it back and forth, I cry with pleasure. A gigantic good feeling shoots like a flame along my vertebrae, sets my head ablaze and my whole body on fire. I love the hands and fingers that made me feel so good and make me dance and tremble on my legs. Wow, do they call that a 'strip search'? Do they do that on every flight here?
Slowly I come back to the world, while I lie on the table, half lame from that beech, after moaning. Suddenly I get hard slaps on my bare buttocks until I stand back and lean on my hands. My ass is glowing a bit sore from the violence and I realize that this research is not done yet!
†
The rubber finger slides back into my pussy and makes me inexorably hot again. Just when it gets nice, he disappears and is pushed a hole higher inside without being asked. I scream in frustration and pain, because the fat intruder stretches all my star. A few blows urge me to silence and my ass is searched in all directions for the presence of drugs in vain. I groan from the raw violence in my cockatiel, but the fingering continues unabated and deep. The guys think they can help and one starts to milk me back while the other starts to search my pussy.
Unbelievable but true: because of the combined actions, even that finger in my ass is still tasty. In no time I'm already dancing with horniness and the three men seem to like that I play along so well!
And then the door opens and an officer walks in… his eyes wide open. A whole list of kebab menus or something follows as the man admires me from top to bottom.
†
"Aha, nice babe, checkup for drugs, not bad!", he says in his best English. He pushes the cadets aside, grabs me by my dangling tits and kneads them again just to be sure. After all, you never know if your guys haven't overlooked anything, although he can tell by my swollen nipples that they've done a thorough job. Of course my dripping plum also has to suffer and she is checked in all corners and sides while he opens my buttocks. I was still about to explode, but this new impotent humiliation is making me even hotter. Then he sticks two fingers in my plum and his thumb fits in my ass and while he says he's coming for me, because my plane is boarding. When he massages my clit with his other hand, I pop through the pleasure wall for the second time and enjoy a trembling and trembling orgasm.
While I'm still beeping from the afterburners, he orders me to put on my blouse and drags me to the departure lounge. I can quickly grab my handbag and with nipples that almost stick through my thin blouse and without pants I am dropped at the gate. "Nice to have with you!" yay, I get it man, me too!
†
When I go up the stairs I keep my handbag behind me, otherwise everyone behind me can look at my naked slit. I plop down in my seat... between two men. I see them targeting my tits and bare legs and they may have even noticed my naked ass. And say their hands are now barely a foot away from my pulsating drooling crack.
If they would do half of what they are probably dreaming to me now, I think I would be singing the Alleluia within five minutes. It really warms me up... when I fantasize about what they might be thinking! I feel my plum starting to drip with gusto. Maybe I should just give some 'cause' that prompts them to action. I already sit with my legs wide open, with my knees against theirs.
"Fasten your seat belts". I secretly hope that it will be necessary for me, close my eyes and wait as the plane takes off screeching.
†
© The Stringpoint Group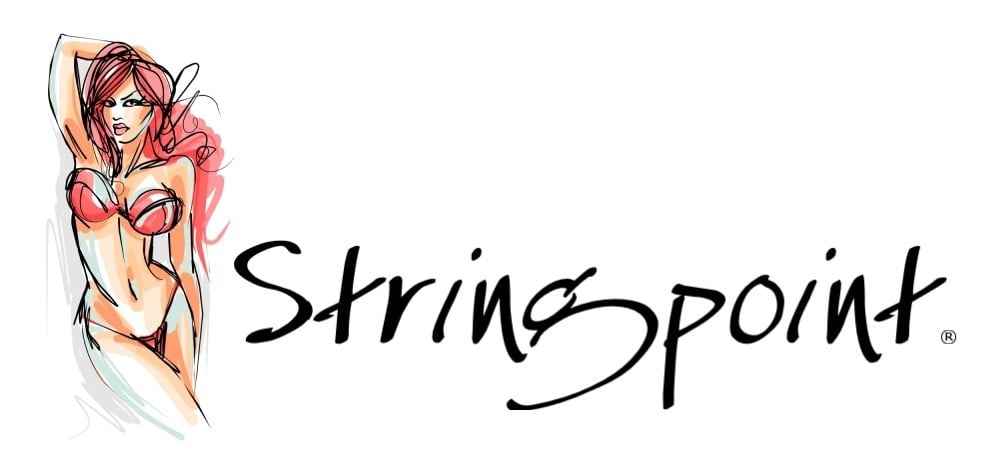 bron: Oops.nl