To smoothe
I was home alone on a Monday afternoon. My boys were traveling with the class for a few days and my husband was working. I had quite a bit of ironing. While I was busy for a while, a friend of the house arrived at our house. Dennis, that was his name by the way. He had to go to the doctor and asked if he could place his car with us due to lack of space at the doctor. That was good for me. My husband wouldn't come home in the first hours anyway, so that was no problem. It was a warm summer day and ideal for ironing outside. I was wearing my short skirt and a sleeveless T-shirt. But since it was so hot, I was soon ironing my bra. No one was supposed to be here anyway and couldn't see me anyway. I thought for a moment that I had to go to a wedding party the following weekend. I would wear a rather far-cut dress there. But if I let the bright sun do its work, you could clearly see the sun delineation of my bra and skirt. So I took off my bra and skirt too. There I was, half-naked in the garden, ironing with only my lace thong on.
When Dennis rings the doorbell to pick up his car, I could still get dressed quickly. The gentle wind caressed my beautiful breasts so that it made me a little horny. Just when I thought it would be better to put sunscreen on me, a voice startled me. It was Dennis. He said to me, "Would you like them to burn maybe?" Apparently he had come through the gate and stood right there in front of me. There I was, half naked in front of him in my white lace thong with a steaming iron in my hand. I wanted to quickly cover my breasts with my other hand, but he said that was no longer necessary. "I've already seen your beautiful breasts. You mustn't hide your beautiful darlings anymore," he said. "Wouldn't it be better if they were rubbed in some?" Of course that was better, because I had just planned to do it myself. So I got the bottle of sun cream and wanted to put some of that white mass in my hand to rub myself in. "Wait," he said, "shouldn't I? Otherwise your laundry will get dirty when you get there with that cream." Before I could answer he took the bottle from my hands and poured some cream into his hand. He started rubbing it warm in his hands first. He came up behind me and started rubbing my shoulders and upper back. That was just blissful. Now I got really horny. If my husband had been here, I would jump on him and fuck him to the bone. Since it was so hot, he also took off his T-shirt and there he stood with only an exciting pair of shorts on. He began to work my shoulders more and more sensually. It gave me chills so that my nipples stood all the way out like proud antennae. He hadn't missed that at all and he warmed some cream in his hands and asked "Can I?" as he pointed to my mature breasts. I just managed to get a "yes" out of my throat. He gently placed his warm hands on top of my breasts. It was just blissful. I closed my eyes for a moment and enjoyed his seductive massage. At first he gently rubbed my breasts in circles, but later he started squeezing them gently as well.
The moment he removed his hands from my breasts to warm up some cream again, I opened my eyes. I saw that he already had a big bulge in the front of his pants. There was something locked up there that wanted to jump out like a tiger. I looked into his eyes for a moment and he smiled. His hands went back to my breasts and I closed my eyes again. Suddenly I felt his soft lips pressing against mine. I opened my mouth like a hungry bird that he might enter me with his sweet tongue. He was a tender kisser, I already knew that, because I had had a thing for him before. I let him lead the provocative tongue dance as he began to knead my breasts and nipples more and more with his hands. After about ten minutes of tongue kissing, he paused and looked deeply into my eyes. He asked, "Do you want this as much as I do?" My mind must have been at zero at that moment because I replied: "Yes!". He gave me another kiss on my lips and then gave me a pillowcase up to my breasts. At first he gently kissed my nipples, but soon my thick brown antennae disappeared alternating between his soft lips. In the meantime I had become so horny that my pussy juices were pouring out of my vagina. Meanwhile, one hand dropped down and he began to gently rub my buttocks. He now released his second hand from my breasts and it also made its way to my delicious buttocks. He massaged and kneaded them so wonderfully that I almost screamed for him to fuck me because an orgasm probably wouldn't be long in coming.
He must have probably also experienced something like this and stopped. He got back up and started tongue kissing me again. But now much more intense than before! That and the fact that I felt his big cock against my legs indicated that he was also very horny… I lowered my hand and now stroked his tiger. I could feel the tension of his pants that the tiger had to come out. It must have almost hurt that he had to stay locked up. I opened his zipper and pants button and pulled his shorts down. Now he was in his blue fitted boxer shorts and I could easily stroke his head without the tiger biting me. It was a nice long and thick rod. According to what I felt he must be the same length and thickness of my husband. He now also started stroking my cunt hill through my thong. Of course he must have felt by my thong that I was already completely wet. He asked, "Wouldn't we take off that wet thong before you catch a cold?" "Lol", I said, but I added "Okay, go ahead". He knelt before me. With his hands on either side of my hips he gave me a kiss on my thong near my pussy. "Hmmm", he said, "your pussy smells good." Then he slowly lowered my thong down to my ankles. I got out of my thong and there I was: stark naked for Dennis. who was on his knees before me. He admired my shaved pussy lips with the little black dot of pubic hair on my lower abdomen. "Nice", he said and he gently stroked my labia with both thumbs.
That was delicious! I think my cunt juices were now flowing out like a waterfall because I felt the wet running down my legs. He kissed my lips back. Several times now. From top to bottom and back. Then I felt him lightly push his tongue into my slit at the bottom and slide so slowly up. The moment he passed my clit I couldn't help but give a slight scream. "Oh", he said, "Little lady likes that right here. He did that a few more times before pulling open my outer lips with both thumbs. Now he slid his soft tongue along my now swollen inner lips. At the height of my female penis it hung around a bit to make some circles and then went further up. When these lips had also been given their full turn, both thumbs now opened my entire vagina. He licked me slowly from top to bottom. He blew on my over wet slit several times in between, which drove me crazy. Now he started to focus on my clit. I grabbed his head with both hands and that's how he knew he was doing the right thing. It didn't take long before I had a violent orgasm. I'm not normally a screamer, but this time I couldn't resist. I don't know if my neighbors heard it, but Dennis. certainly. "Ah, our girl came," he said. My body was still shaking. Before I had fully recovered, he stood up and began to kiss my tongue defiantly.
I could now also very well taste my horny pussy juices that mixed with our saliva. He also bit my lips gently. Suddenly he stopped and said, "And now I!" He didn't have to draw a picture of what had to be done next and I also got down on my knees. I gently rubbed his trapped tiger again. I felt the blood pumping into his pole. He wanted to get the freedom so that he could grow a little more. I then carefully bit his hard pole several times through his boxer shorts. That pole was about to explode. Leaving him in any longer wouldn't have been fair after such an intense pussy licking just now. I pulled his shorts down, but they kept catching on his stiff pole. When I freed its head, the tiger sprang to freedom and stood upright like a peacock. I now took off his shorts completely and now he was also naked… I took his pole in my hand and started making slow up and down movements. The longer I rubbed, the more pressure I started to sting. I ended up kissing his nice big head several times. I ran my tongue gently over his urethra. Then I took his cock head all the way into my mouth and started licking it like a popsicle. I could feel how much he loved this. Then I also took the penis shaft deeper and deeper with up and down movements between my soft lips. It was a delicious pole that suddenly got thicker and bigger. An upcoming emulsion of sperm was not long in coming. He pulled back, but his first ejaculation plunged deep into my throat, while the rest smeared my face, chin, neck, and breasts. He had come with such a loud groan that it had startled him.
I sucked that nice cock all the way before I tasted right again with spittle, horny pussy juices and sperm mixed up. Suddenly we were startled by clapping hands. I almost petrified. I could sink into the ground in shame, because who used to be home from work: yes, my husband !!! How long had he been standing there and what had he seen? I tried to provide some explanation, but he interrupted me. "What do you have to explain?" he said, "D. licked you and you blew him !" Now my cheeks became even redder than before because now I knew he had seen everything. We both tried to get dressed, but he interrupted us again. "Yeah but, if not hey, you've started something and will finish it too", he ordered us. He ordered me to sit on my hands and knees on the grass and told Dennis to fuck me in his favorite position, which turned out to be doggy style.
Apparently they must have exchanged their favorite positions, because my husband Dennis knew position number one too. Dennis came to stand behind me but didn't really dare to start anymore. Then my husband came to help: with one hand he parted my lips until my cunt was completely open. In his other hand he took Dennis's now firm penis and pushed his head into my cunt. He let go of his hands and pushed Dennis further into me with one hand. His rod now disappeared deep into my wet love cave. "Now fuck it", my husband said. Dennis started to fuck me softly and with small strokes but later harder with long strokes. "Yes, that's how it should be," said my husband. Not only did I get hot because I was fucked out here in the garden by a friend of the house, but also because my husband was staring at it. Suddenly I heard my husband take off his clothes. I looked to the side and there he was with his rifle present. He pushed it in the direction of my face and I spontaneously opened my mouth and started sucking him like mad. Both must have watched each other's work intensely because soon I felt both deep in my cunt and in my mouth the warm sperm jets that bombarded me. While I was licking my husband Dennis removed his now ejaculated cock from my cum filled cave. I now also felt the juices running down my legs. Maybe my husband had taken some kind of drug or it was because of the enormous excitement, but his penis wouldn't decrease in size. He now withdrew his rod from my mouth and told me to lick Dennis spear. He placed himself behind me so I knew he would fuck me doggystyle too while I was Dennis. was sucking. He went like mad in my cunt, but couldn't come right away. Meanwhile Dennis' penis had become hard again and my husband had not noticed that either. He told him to lie on his back and I had to ride on top of it, which is my favorite position. Meanwhile, my husband wet his finger with saliva and pushed it deep into my asshole. Of course I didn't have to drive long before I had my next orgasm. While I was tongue kissing with Dennis, my husband withdrew his finger from my small hole and shoved his thumb into it. Slightly painful at first, but when my butt muscles had expanded, he could go in and out freely. At that moment I knew he was preparing something. It soon became apparent that I was right.
He took his thumb out and pushed his still wet cock head against my asshole. It didn't take long for his cockhead and later his full cock to disappear up my ass. I was now double fucked: Dennis fucked me under me in my wet sex cave and my husband fucked me with his horny rod deep in my ass. With a loud cry, my husband squirted his juices into my fiery hot body as if he were a firefighter putting out the fire. He now slowly slid back out of me and massaged my anus a bit. "Cum a few more times as you sit," he told me. I immediately came three more times, but I wanted my last orgasm on top of my husband. I rode him like mad and when I reached my orgasm he urged me not to stop and to keep going until he came too. After a few pulls my husband came and I got a super orgasm. I fell on him completely and exhausted. After a few seconds I lifted my head back up and we started tongue kissing. Afterwards we got up and my husband thanked Dennis. for the threesome. My husband also told him that, if he feels like it, he can always 'pop in' with me. We then showered together, where we washed and dried each other down to the last detail. For a moment I had to look up when my husband started washing Dennis' sex rod. He nicely exposed his head and rubbed it gently with soap.
Then he took my husband's cock in his hands and began to gently jerk it off. My husband also followed his example. There I was standing between two men stimulating each other's huge tubes. It didn't take long before their warm sperm beams flew around my ears. They continued to jerk each other to the last drop of cum. What a thrill that was to me. With a long tongue kiss I said goodbye to Dennis. My husband took me along to gently massage my red and overtired pussy. I lay on the bed with my legs spread wide. He took some erotic massage oil and heated it in his hands. Then he got between my legs and started to gently stroke my outer lips with both thumbs. That felt wonderful. That warm oil and his soft thumbs hugged my labia intensely. Although I had already had an orgasm several times today, my pussy juices started to seep out of my slit again. My husband felt that and lay flat on his stomach between my legs. His thumbs continued to do their excellent massage work and he licked my horny juices from between my pussy slit like an accomplished lover. We haven't fucked anymore after this sexually exhausting day. We enjoyed each other in bed for a while. That was a nice end to this interesting day.
© The Stringpoint Group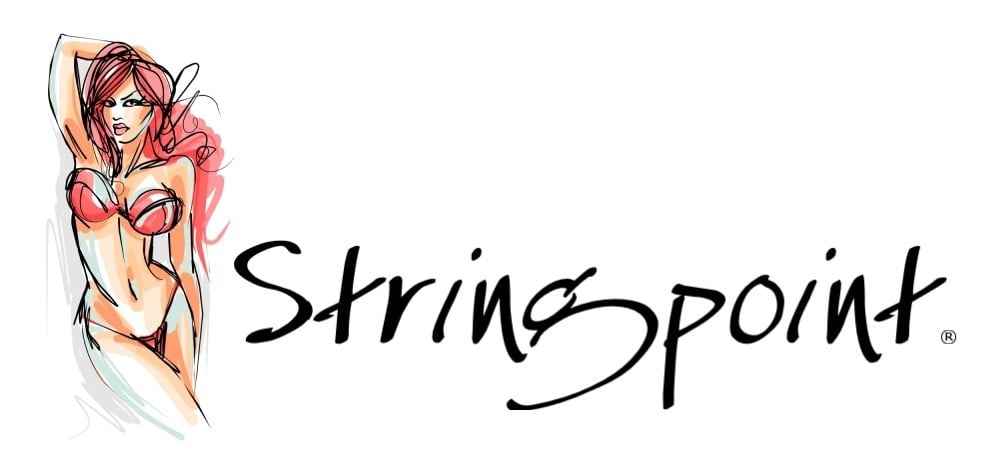 bron: sexverhalen.com