Sex goddess has sex with three men
Finally the time has come.
There I lie, surrounded by three wonderful men with equally wonderful bodies.
I look out my eyes and for a moment I don't know what to do.. But then I rediscover myself and imagine myself the sex goddess I really wanted to be..
Any night, my house.
There is a man with me, a wonderful man.
We've known each other for a while and we get along very well. Both between and outside the sheets.
As often when we are together, we have made it cozy and comfortable; candles lit, snacks and drinks are ready and we settle on the couch.
A nice moment together, lying against each other and cuddling.
His hand strokes my hair and down my back, he knows I love it and I feel the shivers of pleasure go through my body.
I crawl closer to him and let my hands playfully disappear under his shirt. I find his pierced nipple and squeeze it. I hear him hold his breath for a moment, he likes this, I know. As his hands continue to tickle my back, I stand up a bit and run my hands over his crotch. I turn my gaze to him and lean forward to kiss him. Our tongues meet and I let my hands massage his crotch. We merge and the kisses and caresses become more intense..
Suddenly his phone rings. He jumps up, but I want to stop him, "Let go", I say, "if it's important they'll call you back". "No, I really have to take this one" he says with a wink and I look at him questioningly. He pushes me away a bit roughly and walks to the kitchen. "Yes, I'll make sure it's all right." I can still hear him say. All sorts of thoughts run through my head. First of all I find it very strange that he runs away when he is on the phone. "He wouldn't be arranging some shady business, would he?" is the next thing i think. Then he comes back from the kitchen. I see he can't hide a big grin. "Gotta do something, be right back, stay where you are" he says and quickly disappears upstairs. Now my head is spinning with questions, of course, but I know from experience that continuing to ask is pointless, so I lay back on the couch.
After a few minutes, which seem like an eternity to me, he comes back.
Even before he opens the door, I hear him shout, "Sit up straight and close your eyes! Promised?" "Okay, I promise" I answer obediently. I do what he asks of me. He comes up to me and I feel his hands grab mine. " Stand up?" he asks. I stand and the next moment he is tying my eyes with some kind of ribbon. I open my mouth to say something but he sees it and quickly kisses my mouth. "Don't ask anything" he says in a somewhat commanding tone and I know that it makes no sense. He kisses my neck and lets his tongue play there. Then he raises my arms and quickly and skillfully takes off my shirt. I feel him turn me around and he unfastens my bra. That also goes out. He turns me around again. Suddenly I feel his fingers squeeze my nipples hard. I let out a scream of shock, but also of pleasure. Then I feel his teeth there and they pull on my pierced nipples. He lets his tongue play with it and biting and licking he spoils my now hard nipples. "Pants off" he orders and I meekly do as I am asked. "I knew it, slut" he says laughing, when he sees that I'm not wearing any panties. I have to laugh, this shouldn't be a surprise anymore, he knows I like not wearing panties. For a moment I hear and feel nothing. Then there's his tongue, focusing directly on my clit. I scream again and press my pussy closer to his face. He stops, however, leaving me groaning in protest. He now presses me back down on the couch and I remain in the position I am in, half back, propped up on my arms. "Stay down" it sounds from next to me, I hear him walk away.
I don't know what he's doing or what he's up to. I'm still blindfolded and that makes me defenseless. And horny, especially very horny. My arms are just free so as he walks away I drop my hand down and let my fingers feel my wet pussy. They find my clit, of course, this goes flawlessly and I start fingering myself on the couch. I am getting hornier and hornier and also noticeably wetter. I put two fingers in my pussy and start fucking myself with my fingers. I can't help it, the hornier I get, the harder I start moaning. I even forget that he's with me tonight. Until I suddenly feel my hand being pulled away and feel his fingers instead of mine in my pussy. He pushes me all the way back on the couch and runs his fingers quickly back and forth in my pussy. In no time he squirts me to a climax and before I can come around, he makes me cum again.
"So and now enough fun for the time being, slut" he says. He asks me to sit up and after a little after-enjoyment moment for myself I do that too. "Leg up," he says. "Again honey?" I ask teasingly, but that doesn't seem to please Mr. My right leg goes up and I feel him raise something around my leg. I can feel from the fabric that it is a stocking. " What are you doing?" I ask, but I get no answer. Of course not. He grabs my other leg and he puts on a stocking there too. He has apparently done this before, they are completely right right away. " Stand up?" he asks now. "What are you planning to do?" I ask, standing up. "Just trust me now baby, you'll see you're going to like it and don't say anything anymore."
His phone rings again. "No, it uh.. ran out a bit.." I hear him say. "About 10 more minutes, will that work?" I'd already forgotten that he was on the phone earlier too and I think it's crazy. I don't understand it at all!
" What are you…." but he shuts me up again and I say nothing more. "Arms up," he says, when he hangs up. I do what I'm told. Then I feel him pull something over my head. It's a little tight. He pulls it down, I feel everything settle into place. He messes with my thighs some more and then he says I'm done.
"Come" he says and he takes me by the hand and he leads me upstairs to the bathroom. He takes off my blindfold and when I look, I see myself standing in the mirror. I'm wearing a beautiful red/black suspender set! Wow, I'm completely amazed, the stockings he put on me also match perfectly. "You got this from me, because a real slut deserves a nice set" he says and he kisses me. "Now go and touch up your make-up, do your hair, put on your mask and heels, and I'll wait for you downstairs." I'm still a little surprised by this move, but I know what he wants and what's expected of me. I think..
After about 10 minutes I am done with my make-up and hair touching and I have put on my black heels. Finally, I put on my black mask. I walk downstairs and... am I imagining it now? Or do I hear several voices downstairs? I suddenly don't dare to walk into the room anymore, my heart is beating in my throat.
I open the door and see indeed that I did not imagine it. Next to him are two other men. I don't know them, but they sure look good! All the type I like. There are three men with wonderfully bald heads and I can clearly see that his body is also decorated with a few tattoos. I suddenly feel shy and quite exposed in these clothes. Apparently I look quite surprised because he says to me: "Come on honey, don't be so shy, we're going to give you a wonderful evening!"
I take a seat on the couch and introduce myself to the other men. They both give me a kiss on the mouth and tell me their names.
I suddenly assume the role of hostess and offer the gentlemen something to drink. When I walk to the kitchen I still hear one of them say: "She is certainly a beautiful woman, we are going to give her a wonderful evening!" I pretend I haven't heard anything and grab a beer for the gentlemen. When I've put it down, including a rosette for myself, I also sit on the couch, between him and the man who introduced himself as Simon. A bit of an uncomfortable conversation arises, I don't really know how to deal with this, there are not three such wonderful men on my couch every day! And then me in that gorgeous lingerie! I still feel a bit uncomfortable and finish my drink faster than I intended. I get up and walk back to the kitchen to get new ones. I lean against the counter for a moment, just a moment for myself to realize what is going on here and what is actually expected of me.
I didn't notice Simon followed me. "Are you at ease?" he asks me. I tell him honestly that I do feel a little embarrassed, but he assures me that I don't have to worry. I turn to go back to the room and as I walk away I feel Simon caressing my bottom. I stiffen a little, but this touch also stirs something in me and I walk confidently back to the room.
"Let's see what the gentlemen mean by a nice evening!" I say. I stand in front of them defiantly, my hands on my sides. He won't let himself be told that a second time and takes my hand. I stand leaning forward, my buttocks back and leaning forward towards him. He kisses me, I can tell from the way he kisses that he feels like it. My suspender top goes down, massaging his hands and playing with my breasts. At the same time I feel my buttocks being caressed. I look to my right and notice that both Simon and the other man, Leon, are caressing my bottom. My legs are pushed apart a little and I feel a hand gently touch my pussy. "So then, you're in the mood for it baby" Leon says when he feels how wet I am already. He who is with me tonight chuckles, he knows how wet I can get. I naturally spread my legs a little further. I'll open the pants of the man who's with me tonight. I laugh when I see that it's no use to him either. A shiny ring on his hard penis glares at me. I stand as I stand and take his penis in my hands. Now and then licking and sucking his head, I jerk off Mike, that's his name, with gentle strokes. Mike bumps his hips up a bit to signal to me that he wants more, but I don't respond.
Meanwhile, Leon got up and came to stand behind me. He now caresses my buttocks extensively and now and then I feel a firm slap on my buttocks. "Could be a little louder, she likes that, the slut" says Mike. Leon immediately responds, a fierce blow follows. I cringe a bit, that was really hard, but I don't give any *. I'm certainly not going to let myself be known in front of those three men. If they want a horny, willing slut, they can get it too!
I did not see that Simon has also risen in the meantime. I'm having a good time jerking off and sucking Mike. And yes, once I'm busy, I sometimes want to forget everything around me. I feel very suddenly I am pulled up and pushed onto the couch. For a moment I lie there very dazed; realizing what's about to happen tonight.
It's finally here!
There I lie, surrounded by three wonderful men with equally wonderful bodies. At least, that's what I'm assuming. I look my eyes out and for a moment I don't know what to do.. But then I find myself again and imagine myself the sex goddess I really wanted to be...
© The Stringpoint Group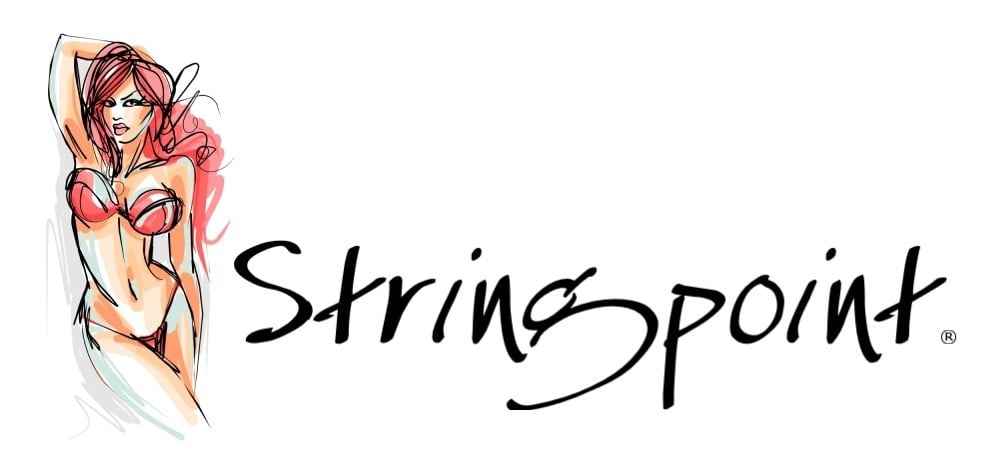 bron: sexverhalen24