Weekend with friends
I am 34, married, but have no children. My husband Walter is a nice man but there is little tension in him. Every week is basically the same with him: working, having a drink in the pub, to his parents, to my parents and then twice a year on vacation together. We do have a good relationship, but sometimes I had the feeling that we could use a boost when it comes to sex. A little over a year ago I was suddenly called by Angela, an old school friend of mine. If I wanted to go to Brittany for a weekend with her and two other girls from that time. She knew a summer cottage on the beach with a pool and we hadn't seen each other in so long. We really needed to catch up.
Angela used to be a free-spirited type who mainly wanted to enjoy life and I was more of a decent hat, but we clicked well together. The other two, Loes and Maaike, I knew less well, but they always went out with us. "Okay", I heard myself say, "When are we going?". It turned out it was already next week so I had to arrange something at work. I threw a lot of clothes in my suitcase that Friday morning, I'm a woman and we were quickly on our way to Brittany. Angela had picked me up in her very old convertible and half an hour later Loes and Maaike joined us. Angela still looked good at 35: long blond hair and a beautiful figure with a full buttocks and a well-filled bra. Loes and Maaike could also be there, but they didn't show it that way. Both were married and Loes now had a seven-year-old daughter. "Yes, you have to do something", she laughed behind her sunglasses. It was warm, and it promised to be around 28 degrees in Brittany. Reason enough for Angela to dress herself in a short skirt and paper-thin blouse.
The blouse showed the color of her sexy bra. When the wind under her skirt got free rein, it was easy to see that she was wearing a bright red thong. Angela was completely female. She actually made me a little jealous. I also wore strings for a number of years, but otherwise I showed little. This while my body was still good to have. I had little trouble with being overweight and my buttocks and breasts  were still tight. I actually had pretty nice breasts: quite large and completely natural. In my jeans and normal long-sleeved shirt, however, I made a sort of Tomboy impression along Angela. We had the most fun along the way, especially when Angela took off the roof and challenged truck drivers. "Hey sweet thing!", it sounded from a window, "Can I see anything more?". Angela pulled up her skirt a little so that the driver saw her thong. She stroked a finger suggestively over her panties while another no less suggestively moved in and out of her mouth. "Angela!" cried Maaike, "Are you crazy? We are not whores." I didn't say anything but actually I admired Angela. A few hours later we arrived at the cottage. Well, house. It was more like a villa with a beautiful swimming pool, a hundred meters from the beach at St. Malo. "I feel like taking a dip", Maaike shouted. Well, actually I do. We fumbled in our suitcases and two minutes later all four of us were downstairs in our bathing suits. I suddenly felt like a big hat. I had put on my regular white bikini with swim briefs and halter bra. Maaike wore a strapless striped bikini with Brazilian bottoms and Loes surprised us with a blue string bikini.
Angela had to stand out again, of course: I didn't know where to look when she stood in front of me with only a tiny green thong around her hips. "You're not afraid of my naked tits, are you? We are here with girls among each other, aren't we." I thought her breasts be beautiful, nice and firm and firm. Her nipples had become nice and hard. I secretly admired her, but didn't dare say so. We dove in the pool and felt great. Then we went to bake. "Who's greasing me?" Angela shouted first. Maaike grabbed a bottle of oil and went over her back. "Mmmm…nice girl", Angela moaned. Loes did not want to be left behind and took off her top as well. Her enormous big breasts became visible. "I have such huge tits that I am sometimes ashamed. At home I always sunbathe topless, I thought I could set them free now", she chuckled. Maaike looked at me, she hoped I might leave my top on. However, I didn't want to be known and showed my 'boys' to the others. "Look, look", I heard Angela say, "Why they have always been hidden is a mystery. I bet all men get a boner when they see Rebecca's tits." Without announcing anything she kneaded my breasts. That felt good. "Stop it Angela! I'm just straight. "Me too, but that doesn't mean I don't like you." What was I supposed to do with that? I just lay on my back and sunbathe. The wind past my breasts felt wonderful.
Maaike was the last to sunbathe topless. A little awkward, but half an hour later, four topless women in their mid-30s were busy gesturing through the garden around the pool. It was a wonderful day. Loes winked at Angela and suddenly sighed almost seriously. "I hate those stripes on my body. Anyone object if I go completely naked?". Before we knew it she got up and took off her blue thong. She paraded in front of us completely naked. She had shaved her pussy almost bald. Added to her big tits she had a beautiful body. Angela was unstoppable and took off her thong with a lot of theater. The 'slut' had shaved her pussy completely bald. It looked like her lips had seen a man up close. I felt solid because I hadn't trimmed my pubic hairs that extreme, just a line with pretty long hair. So I went in because I supposedly didn't feel very well. Maaike sprinted after me, something was wrong with her too. Together we went to the shop behind the houses. Two, same thought. At the bikini shop we both picked out a super sexy thong bikini. I a red and Maaike a black. Our breasts almost fell out of the little triangles and our pubic area was barely covered. We laughed at each other. "Now let's go to the bathroom", she smiled at me. I knew what she meant. "Shall we go together? Then I'll probably get the ladyshave…" We gasped.
In the bathroom we quickly got rid of our clothes and we got down to business. Before we knew it we both had almost bald pussies. We looked at each other and then I ran the device one more time over Maaike's last hairs. I saw that she had never had a bald pussy before. Now you too!. I liked that she was about my most sensitive organ. Two naked women shaving each other, pretty cool. Actually I got quite excited……Maaike felt my legs and saw the sparkle between my legs. I knew what she wanted because her nipples were jabbing in my direction. "I know a better idea", I said mischievously, "Just put on your new black thong and I'll put on my red one. Then we go outside." We both looked super sexy in our new shorts. We walked out hand in hand. The thought that I was only wearing a red thong and underneath my shaved pussy made me horny like never before. Loes and Angela were meanwhile stark naked in the pool and talking about a boy. Loes' huge breasts floated on the water while Angela drank a glass of wine and was almost asleep. "Lie down in the grass", I ordered Maaike. She did and I started kissing her all over her body. I stuck a finger behind her thong and noticed how soaked she was. "I want sex with you. There is a dildo in Loes' bag, I saw that myself. Just grab it, we're going to shock them.", she lisped, horny. I walked back to the cottage with the adrenalin running through my aroused body. The ladies watched me as I swayed my buttocks swaying hips. The dildo was quickly found, it was a sturdy thing, 20 cm long.
Just holding that thing drove me crazy with lust for cock. I took off Maaike's panties and massaged her clit while licking. She began to moan and moan. Then I brought the dildo inside her. After ten minutes she came shockingly after which it was my turn. I had become so horny that I didn't care anymore that everyone saw me with my legs wide. What a horny cunt I had for my feeling. It didn't take long before Maaike's tongue, fingers and the dildo also gave me a wonderful orgasm. I closed my eyes and enjoyed it to the fullest. After a few minutes I woke up and saw that Angela and Loes were also busy with each other.
"Girls, this will be the best weekend of our lives", Angela shouted, with a finger in Loes' pussy. And so it was. All weekend we just walked around naked or wore a thong. When we had to go to the store, we deliberately only put on a transparent blouse. Because of this we got 'sjans' with a few French guys, so we also got to sniff some delicious cocks. It was great, we went all out. There were no more taboos. When we got back home we decided to keep this weekend to ourselves. But a sequel? Maybe the tension is off a bit.
© The Stringpoint Group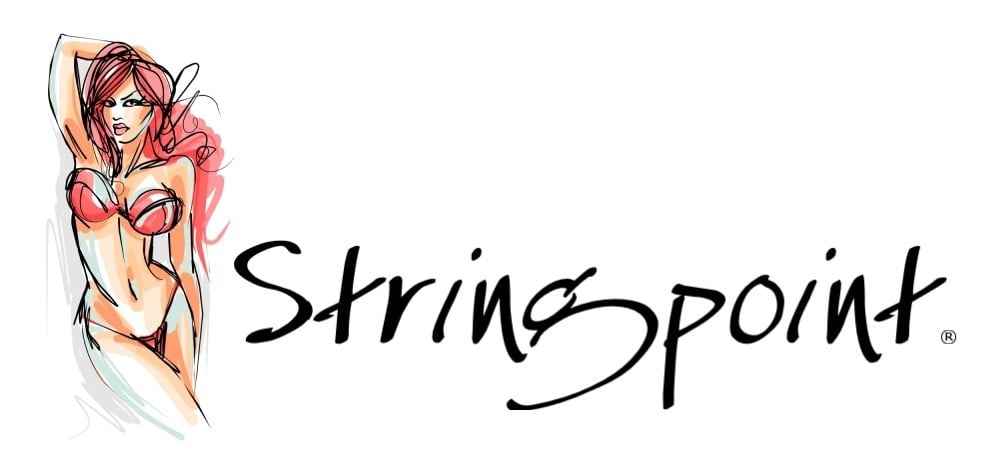 bron: sexverhalen.com