I made it happen
Some time ago there was a problem with our HR boiler. My husband had called the installer and a technician would come by the next day to check everything and possibly repair it. The next morning we sat inside and had just had a cup of coffee. I was just getting up to take a bath when the bell rang. "That will be that mechanic." my husband said. "Will you open the door right away if you're going that way?" I looked at him amused and asked him if he really meant that since I was wearing nothing more than a short bathrobe. He looked at me with a chuckle and joked; "You can appreciate a little challenge and excitement, honey." "Asshole!" I said as jokingly as he back and walked towards the front door. I stepped into the hall and opened the door and there was indeed the promised mechanic. His reaction to my barely clad appearance was more than clear. A little awkwardly, he introduced himself and reported what he was coming for. His uneasiness made me feel a little more confident and I spoke to him without stammering and directed him to the living room where my husband Steven would help him further. I turned and walked to the other door to disappear into the bathroom. I felt the man's eyes focus on my back and on my almost visible buttocks.

I walked into the bathroom and closed the tap that I had already turned on and stepped into the very warm bath and immersed myself in the wonderful warm glow of the water. With my eyes closed I was dozing off and after a while the bathroom door opened. Steven stepped in and reported that he was going to visit a buddy of his and would be back in an hour or two. I asked him if it worked with the kettle and he said it was fine. At that moment I didn't think about his answer. I assumed the job was already done. I let myself sink back into my bath intoxication. After dozing off for a while, I pulled the plug from the bath and got out. I dried myself and rubbed myself in with a nice body lotion. I grabbed a dry towel and wrapped it around my torso and went back to the kitchen to make myself a cup of tea. While the kettle was doing its job, I was comfortably reading a sheet I had on the counter. Suddenly I heard something in the hallway. While I looked up from reading, the mechanic appeared in the doorway. I was startled by his sudden appearance and took a step back with a startling movement. The sudden movement made the tip of my towel loosen and it fell to the floor. I stiffened and the mechanic stood speechless in the doorway, mesmerized at my naked body. I saw his eyes slide down my body. First his gaze focused on my full breasts, then slid down to my pelvis and shaved pussy.
It took a while before I got over the panic but then quickly dropped to my knees and grabbed the towel from the floor and then quickly held it in front of my torso with both hands. "Sorry," I stammered. "I didn't know you were still here. My husband forgot to say that." The mechanic smiled a little and walked boldly into the kitchen. "No problem." he chuckled. "I had to replace something and everything works as it should again." While talking he had approached me within about a meter. He looked at me with an unabashed look from top to bottom. I felt very embarrassed with only the loose towel for my upper body and I asked him if he was ready now. "Yes, with the kettle, can I perhaps be of service to you elsewhere?" he reacted cheekily. Despite the embarrassment, I also felt strangely excited. It was also very exciting to be so vulnerable and almost naked in this situation. "No thanks." I said "Thanks for the service, you can help yourself leave it out if you don't mind." The man looked at me in silence for a moment, then smiled cheekily again. He took a paper towel from under his arm and set it on the counter. He then took a pen from his breast pocket and put it "You can sign here" he pointed to a form on the cover. I turned without thinking to the counter and clutched the towel with my left arm against my body and took the pen with the other hand to draw. My backside, which was uncovered and therefore naked, was visible to the mechanic who was half behind me.As I drew I stiffened because I suddenly felt the mechanic's hand slide between my buttocks and his fingers slid between my labia.
I immediately felt a sense of shame because despite the situation I had become quite wet and the man must have noticed it by the ease with which his fingers slid between my smooth labia. Nevertheless, I turned viciously and said loudly. "Hey!". However, when I turned around, the man pulled the towel off me with his left hand and immediately grabbed between my legs with his other hand. This time he immediately slid his fingers deep into me and started massaging my clit with his thumb. His other hand dropped the towel and then began to feel and knead my breasts. I gasped in astonishment; "Don't, please don't?" Unresponsive to my plea, the mechanic continued fingering and massaging. To my embarrassment, I noticed my pussy reacted diligently to the fucking fingers and thumb that worked my clit hard. wetter and felt myself getting hornier.
"Please stop" I whispered softly to him, the horniness clearly resounding in my voice.
The mechanic said nothing but just looked at me with a look of lust and continued fingering. With his other hand he took turns squeezing my nipples hard. I was ashamed that I was enjoying what he was doing to me but couldn't help but moan softly.
For minutes he went on until he finally broke his silence and said, "Open my pants and take my dick out." "No" I said "I can't." "Do it" he said and squeezed my nipple hard as he said that. "Get my dick out of my pants. Do it!" Driven by my own horniness I did as he asked me and I unbuttoned his pants. I wriggled down the pants over his bottom and his briefs as well. "Grab him." commanded
he. Gently I moved my hands to his member and felt a big erection and closed my hand around his hard cock. "Mmmmm" he moaned. "Jerk me off" he ordered. "Okay" I whispered to him softly. "If I jerk you off, will you be happy?" I looked at him and he chuckled softly. "Yes baby, if you If you jerk off nicely then I will be very satisfied. Tell me...do you enjoy what I'm doing to you?" Embarrassed, I closed my eyes because I couldn't look at him as I admitted to him that I liked it. He laughed softly and said, "Come on… , let me feel how nice that hand of yours can spoil me." I kept my eyes closed and started jerking it off, trying to concentrate trying to jerk it off as nice and good as possible to get it ready as soon as possible I became hornier and hornier. The man fingered me wonderfully and the wonderful massage of my clit caused me to unintentionally move with my pelvis to his rhythm. Unintentionally I enjoyed his stiff cock that became harder in my hand .
Suddenly the mechanic withdrew his hand from between my legs and pulled my hand off his hard genitals. He pushed me gently against the counter with my buttocks and came up against me. With his hand he pushed his hard cock up between my thighs until his head ended up between my labia. "New!" I said to him. "Not that! I don't want that!" I said firmly to him. Paying no attention to me he grabbed my hips and started moving his pelvis slowly and I felt his hard cock begin to pump back and forth between my labia. From front to back between my buttocks and then again between my labia to my clit and back to between my buttocks. "Relax" he said to me. "Get me ready like this and you'll be rid of me." I felt the hard pole slide more and more easily between my buttocks and labia. By now my pussy was soaking wet and I was so terribly horny that I stopped resisting and gave in. I clenched my thighs together so that his cock stayed in place and moved my pelvis to his rhythm so that his cock continued to slide nicely along my vagina and clit. For minutes he kept fucking me dry like this' the long strokes that continuously glided over my clitoris drove me completely crazy. A frustrating and unequal battle played out in my head. I wanted to make him cum as soon as possible so that this situation would finally come to an end and at the same time I couldn't resist the enormous horniness and pleasure I was experiencing with it all.
Because I had become so horny, my movements became more and more wild. As his cock head rubbed against my clit again I moved my pelvis a little too much and when he thrust his cock forward again his cock head hung against the edge of my vaginal opening for a moment and then popped in instead of past it. Immediately the mechanic shoved the rest of his hard cock deep inside me and started fucking me at a brisk pace. I wanted to break free but couldn't find the strength and motivation for it. My pussy and horniness reacted immediately to the delicious cock inside me and I surrendered to the inevitable. "Mmm oh yeah" I moaned.
"Fuck me then" The man grinned. "Okay sweetie, enjoy it." I heard him say. Holding my hips tight, he fucked me with big thrusts. I moaned out loud and enjoyed his hard, deep thrusts. After a few minutes he visibly started jerking and with the fact that I felt his warm sperm squirting in I started to cum hard on his delicious cock. I continued to fuck his cock until I finally felt my intense orgasm ebbing away. After we recovered from our climax, I picked up the towel from the floor and wrapped it around me again. He put his pants back on and grabbed his things. Without saying anything to each other, I followed him to the front door and let him out. I watched him in the doorway for a while longer, not realizing that I was standing there for all to see with just my towel on, with an obvious stream of semen streaming down my thighs. Then I went back inside and took a quick shower. When Steven got back and asked if I had spoken to the mechanic...he needed to know how his game turned out.
© The Stringpoint Group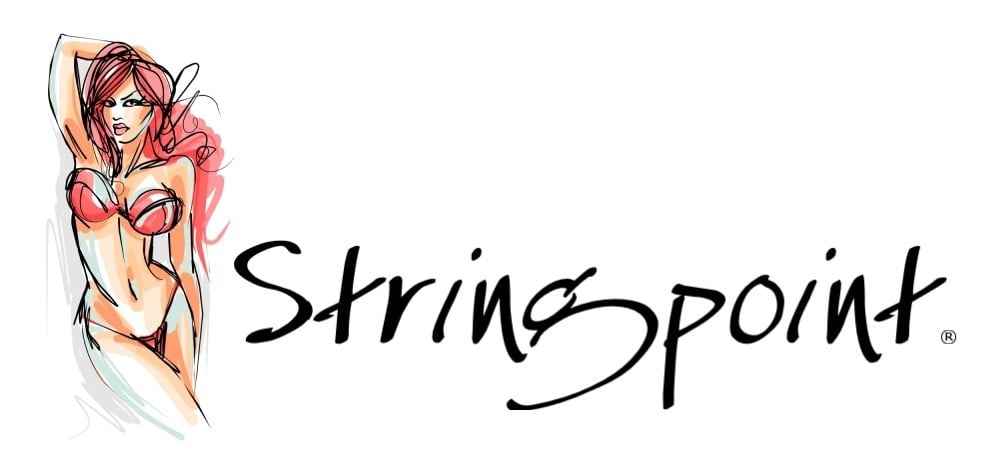 bron: Oops.nl