"I find it so exciting to be dominated"
Thursday
"I want to talk to you," Linda says. "Do you have time to come in?" I peel Ella out of her jacket and sit on Linda's couch with her on my lap. I look around. It seems like Ella is her child. There is a playpen and a high chair in the room, a chest filled with toys and a life-size photo of my daughter hangs in the middle of the living room. I know the photo, because it was taken at the nursery. How does she get that? Again an uneasy feeling creeps in and I wrap my arms tightly around Ella.
"I was very sorry that Ella can't be with us with Santa Claus," says Linda. "That's why I'd like to talk to you about Christmas. Normally she comes to see me on Thursdays and Fridays. Shall we do the same for Christmas and that you pick her up after breakfast on Boxing Day? And I take it you want her to be with you on New Years?"
Erm, no idea. I haven't made any plans yet. I don't know what my mom and my friends are going to do. I assume Mark will sit under his own Christmas tree with his children and pregnant wife. I just don't like Linda claiming my daughter in a way like I'm co-parenting with her. So I frostily say I don't think it's a good idea for Ella to have Christmas breakfast twice at Linda's. "She may be with you on Christmas Eve, but I will pick her up on Christmas Day." Like this. That is then clear.
Friday
I have informed Leroy that I will accept his offer and will be his manager from January 1. For the time being, there are no events where he has to go, so I'm just free in the evening. Besides, just because I'll be his manager doesn't mean I'll be his driver. We can also hire a student for that. Leroy says he's overjoyed and that he'll be visiting me soon.
I buy a new laptop and telephone at the Apple store and then cycle to Frank to hand in my old stuff. I didn't announce my visit, so my ex-colleagues look rather surprised when I come in with a big box of Christmas wreaths and a bottle of champagne. "I want to celebrate that I'm going to start my own business," I say cheerfully. "I have already brought in two talents!"
Frank raises his eyebrows when I tell him I'll be looking after Leroy's business. "You have to watch out for that guy," he says. "I wouldn't take him. He is constantly causing trouble." I don't care about his words. Leroy's coming to sign his contract on Monday and I'll make sure it's watertight. I can't help but ask about Mark and Josien. "They're fine," Frank says thoughtfully. "Josien is now 11 weeks pregnant." Then he says, "But I'm sure Mark misses you."
Monday
Despite Sinterklaas, the words 'I'm sure Mark misses you' have been floating around in my head all weekend. However, I did not call or text him. I'm done running after him like a dog. I did chat a lot with Hans, the 62-year-old sugar daddy who is looking for a young woman. I don't feel like meeting him at all, but he does offer a nice listening ear. He really enjoys reading about my lesbian adventures with Angela, my love for Mark and the adventure I am now embarking on with Leroy.
Leroy rings the bell at 12 noon. He wears a hoodie, sweatpants and sneakers. Apparently he just got out of the gym. "I'm going to take a shower," he says and immediately goes to the bedroom. I raise my eyebrows, apparently he still feels very much at home with me, even though we haven't seen each other in a few years. Ten minutes later he calls me. I walk into the bedroom unsuspectingly and see a pair of pink handcuffs on my bed. "Gift," he grins.
My heart is pounding. Is this sensible? I find it so exciting to be dominated, but is Leroy the right person for that? I only want to do things like this with someone I trust completely. Or rather: with Mark. I only want to enter into a business relationship with Leroy. On the other hand, I find him incredibly attractive and Mark is unavailable.
Leroy is dressed only in a towel, which hangs loosely around his hips. I lick my lips, still unsure what to do. Then the bell rings. I am startled. Who could this be? I walk down the stairs and open the front door. It's Mark! What is he doing here? And before I can stop him, he runs upstairs. He sees Leroy standing in the bedroom doorway. His gaze drifts to the pink handcuffs.
I blush with shame. Mark's blue eyes are freezing. Help. How am I supposed to solve this now?
© The Stringpoint Group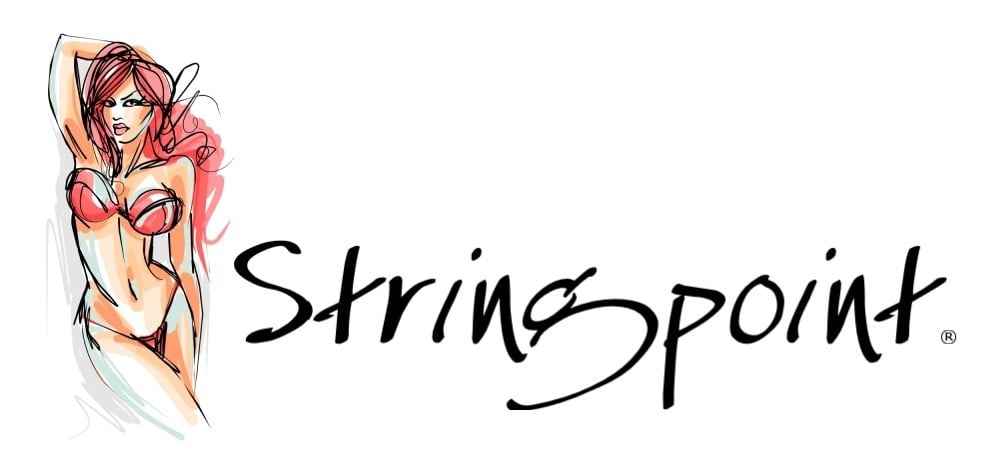 bron: de Telegraaf